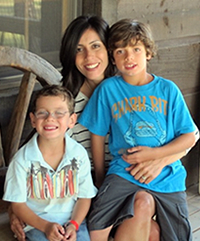 "Coaching allows me to recognize in people what they may not yet recognize in themselves. This is my passion…"
With a master's degree in social work and an honors degree in sociology, my life's focus has always been to help people. My career as a certified coach came from a love of helping people succeed and reach their full potential. It is deeply gratifying to see the pure joy and satisfaction in my client's eyes when they have attained their goals and surpassed any obstacles in their way.
When my son was diagnosed with ADHD, I remember feeling overwhelmed and wishing I had someone who knew the particulars of ADHD to support my husband and I in finding the best way to help him. What I needed was a coach familiar with what I was going through. Without one, I turned to doctors, specialists, books and courses and began to educate myself in depth on the subject.
I learned the importance of creating a circle of support for not only the child affected but for the family as well. I learned how to work with the school, doctors and specialists and how to advocate for my son. Most of all, I learned that there are ways to manage ADHD successfully and help my child realize his potential. Through this I gained strength and became a strong leader and advocate for my son.
With this strength came a new passion, I did not want other children and their families to struggle the way our family had, and I and took my already established coaching practice in a new direction. I now specialize in working with families impacted by AD(H)D.
Examples of how I can help through coaching:
clarify questions
navigate and support you through the process of diagnosis and beyond
provide support to your child or teen in their every day life through goal setting, etc.
teach your family productive ways of communicating and resolving conflicts that arise
Through coaching my goals are to support you in creating a new reality that is both workable and positive and to build on your child's strengths and work with their weaknesses so they can experience success and accomplishment academically, socially, and personally.
"Throughout this journey my son has taught (and continues to teach) me valuable lessons about patience, differing perspectives, appreciation, gratitude, and taking nothing for granted." From what was a daunting beginning of this lifelong journey I have witnessed him 'take flight' and travel farther than I could have imagined.
Relevant Qualifications
Masters Degree in Social Work, New York University

Honors Degree in Sociology, The University of Western Ontario

Adler Certified Coach (ACC), Adler International Learning

Coaching kids with ADHD ages 8-12 Certified, JST Coaching

Coaching teens and college aged students with AD/HD Certified, JST Coaching

Member of the International Coach Federation
Professional Affiliations
"The day we found Robin is the day our family found respite. We would go to each appointment full of the frustrations of life with our ADHD young adult and walk out calm, informed, re-centred and with practical strategies to keep us going.  Throughout our time with her she remained caring, supportive, accessible and a consummate professional. With Robin as one of his supporting cast members, our son has managed to complete his post-seconday studies, a seemingly impossible undertaking previously.  She provided him with a place to chat, vent, dream and be held accountable.  She provided my husband and I with a place of refuge.  We are and will remain forever grateful to her and highly recommend her services to anyone living with a young adult with attention deficit.

Wishing you all the very best…"
"Robin has helped my son understand how his brain works and to understand his ADHD from a place of strength and knowledge, rather than a negative label. She has a unique way of guiding him so that the skills he is building are his to own and take responsibility for. I knew we were taking the right path when my son thanked me for 'making him' work with Robin. He said: "I can see that the strategies we are working on are making a difference. I feel more confident, and I just brought home my two best marks ever – proof that I am able to focus and do the work."
"When we first learned of our son's diagnosis of ADHD several years ago, we had no idea how many hurdles and challenges lay before us. Words cannot describe how grateful we are to have found Robin early in our journey. Her wealth of knowledge and insight gave us a foundation on which to start building a supportive path for our son. Her compassion and understanding have helped guide us forward through the tougher twists and turns. Most of all, Robin's practical, thoughtful and solution-focussed approach has inspired and empowered us to become the advocates our son both needs and deserves. To us and our son, Robin's support has been invaluable."